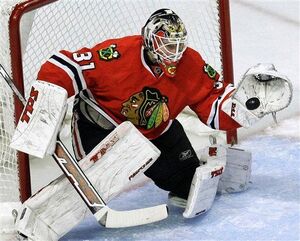 Antti Niemi (born on August 29, 1983 in Vantaa, Finland) is a professional ice hockey goaltender who is currently playing for the Dallas Stars of the NHL.
During the 2009–10 NHL season as a goaltender for the Chicago Blackhawks, Niemi became the first Finnish goaltender to win the Stanley Cup.
First Career Shutout
Edit
Niemi recorded his first career shutout on October 3, 2009 in his native country of Finland as the Chicago Blackhawks defeated the Florida Pathers.
Career Statistics
Edit
Regular season and playoffs
Regular season
Playoffs
Season
Team
League
GP
W
L
T/OT
MIN
GA
SO
GAA
SV%
GP
W
L
MIN
GA
SO
GAA
SV%
2005–06
Pelicans
SM-l
40
12
17
8
2263
103
3
2.73
.916
—
—
—
—
—
—
—
—
2006–07
Pelicans
SM-l
48
18
21
7
2780
119
3
2.57
.918
6
2
4
370
9
1
1.46
.951
2007–08
Pelicans
SM-l
49
26
14
6
2791
109
4
2.35
.926
6
2
4
328
21
0
3.83
.883
2008–09
Rockford IceHogs
AHL
38
18
14
3
2095
85
2
2.43
.910
2
0
2
115
7
0
3.65
.897
2008–09
Chicago Blackhawks
NHL
3
1
1
1
141
8
0
3.40
.864
—
—
—
—
—
—
—
—
2009–10
Chicago Blackhawks
NHL
39
26
7
4
2190
82
7
2.25
.912
22
16
6
1,322
58
2
2.63
.910
2010–11
San Jose Sharks
NHL
60
35
18
6
3524
140
6
2.38
.920
18
8
9
1044
56
0
3.22
.896
2011–12
San Jose Sharks
NHL
68
34
22
9
3936
159
6
2.42
.915
5
1
4
318
13
0
2.45
.914
2012–13
San Jose Sharks
NHL
43
24
12
6
2581
93
4
2.16
.924
11
7
4
673
21
0
1.87
.930
2013–14
San Jose Sharks
NHL
64
39
17
7
3740
149
4
2.39
.913
6
3
3
305
19
0
3.74
.884
2014–15
San Jose Sharks
NHL
61
31
23
7
3587
155
5
2.59
.914
—
—
—
—
—
—
—
—
2015–16
Dallas Stars
NHL
48
25
13
7
2655
118
3
2.67
.905
5
1
3
238
13
0
3.29
.865
Liiga totals
137
56
52
21
7834
331
10
2.55
.899
12
4
8
698
30
1
2.50
.917
NHL totals
386
215
113
47
22,355
904
35
2.43
.915
67
36
29
3,899
180
2
2.77
.905