Robert "Bobby" Hull
was born on January 3rd, 1939. He played for the Black Hawks when they won the 1961 Stanley Cup. He was remembered for blonde hair, a blinding speed, and a killer slapshot. This earned him the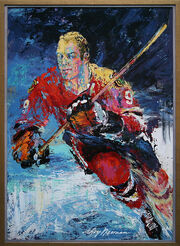 nickname "The Golden Jet". During the 1965-66 season, he became the first player in NHL History to score more than fifty goals in a season. In 1983, he was inducted into the Hockey Hall Of Fame. His slapshot clocked at 120 MPH, wristshot at 125, and speed at 50 KPH.
Childhood
Edit
Hull was born in Belleville, Ontario. He played Junior B hockey for the Woodstock Athletics in the fall of 1954. Hull lead the Athletics to the 1955 Sutherland Cup as Champions of Ontario. He joined the Black Hawks at eight teen (18) years old.
Black Hawks
Edit
Hull finished second in 1958 Rookie of the Year voting. He wore numbers 16 and 7, but switched to 9 to honor Gordie Howe, his childhood idol. By 1960, he led the NHL in scoring. The next year, he won the Stanley Cup with the Hawks with help from teammate and friend Stan Mikita. Most said he was the best player of the early 60's.
Although he was only 5'10 and 185 pounds, he became the first player to score more than 50 goals in a season on March 12th, 1966. Play was delayed seven minutes just so the fans at Chicago Stadium could cheer. Rangers goalie Eric Nesterenko claims that another player interfered with him. Hull scored fifty four goals that season, the highest of the Original Six Era.
Late Sixties
Edit
Hull led the league in scoring seven times during the sixties. Despite breaking his own record with 58 goals in 1968-69, the Blackhawks missed the playoffs for the first time since Hull joined. He scored 50 or more goals five times.
Other Playing
Edit
Hull also played for the Winnipeg Jets and Hartford Whalers of the NHL. He joined the Winnipeg Jets of the WHL in 1972. This was the founding year of the league. He played until the league folded in 1979. Slowed by age and weakness, he only played for sixty nine minutes in '79. Hull then retired. He then came back to play for the NHL Jets. After an automobile accident, he retired again. He attempted a final comeback with the New York Rangers in 1982, but quit after 5 preseason games and 2 points.