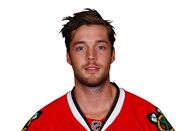 David Rundblad (born on October 8, 1990 in Lycksele, Sweden) is a Swedish professional ice hockey player who is currently an unrestricted free agent.
Rundblad played for the Blackhawks organization for three seasons after being traded to the team from the Phoenix Coyotes in 2014. He won the Stanley Cup with the Blackhawks in 2015. He also played for the Ottawa Senators for one season.
On July 1, 2016, he became a free agent after he was placed on waivers and bought-out from the remaining year of his contract with the Blackhawks.
Ad blocker interference detected!
Wikia is a free-to-use site that makes money from advertising. We have a modified experience for viewers using ad blockers

Wikia is not accessible if you've made further modifications. Remove the custom ad blocker rule(s) and the page will load as expected.