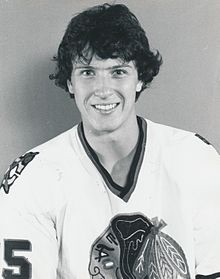 Jerome Dupont (born February 21, 1962 in Ottawa, Ontario) was a Canadian professional ice hockey defensemen.
Jerome Dupont played for the Toronto Marlboros of the Ontario Hockey League at the age of 16. He was drafted in the first round, 15th overall by the Blackhawks in the 1980 NHL Entry Draft. He retired in 1987 after seven years of play with the Blackhawks and the Toronto Maple Leafs and AHL hockey with the Springfield Indians (now the Peoria Rivermen) and Newmarket Saints.
He started his jumior coaching career with the 1998 Thornhill Rattlers of the Ontario Provincial[1]Junior A Hockey League. Within two years the team won the Dudley Hewitt Cup as Central Canadian Junior "A" Champions. In 2006–07, as the coach of the Aurora Tigers, he led the team to the Dudley Hewitt Cup, and then later won the Royal Bank Cup 2007 as National Junior "A" Champions.
When Jerome went and played in the United States he was given the nickname Jerry, simply because Jerome wasen't really a common name among his American team mates
On November 4 he was named head coach of the Olympiques de Gatineau of the LHJMQ. Currently Jerome is the head coach of the Trenton Golden Hawks, a JR A team in Ontario Canada
External links
Edit