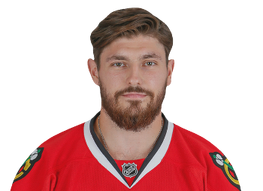 Michal Kempny (born on September 8, 1990 in Hodonin, Slovakia) is a Czech professional ice hockey defenceman who currently plays with the Washington Capitals of the National Hockey League (NHL).
Playing Career
Edit
Michal played as a youth in Slovakia with SHK Hodonin and made his professional debut in the Slovak Extraliga with HK 36 Skalica. Moving to play more competitively, he played for HC Kometa Brno of the Czech Extraliga.
On April 29, 2015 (after playing seven seasons of professional hockey in the ELH), Michal was signed by Russian club, Avangard Omsk. In the 2015–16 season, he quickly transitioned to become the club's top defenseman, scoring 21 points in 59 games from the blueline.
Upon competing in his first senior international tournament for the Czech Republic at the 2016 IIHF World Championships, he signed with the Blackhawks as an undrafted free agent on May 23, 2016. He made his NHL debut on October 12, 2016.
On December 30, 2016, Michal scored the first goal of his NHL career against Cam Ward of the Carolina Hurricanes.
In Michal's first season with the club, he recorded 8 points in 50 games. On May 27, 2017, he was re-signed by the club to a one-year extension.
On February 19, 2018, Michal was traded to the Washington Capitals in exchange for the higher of Toronto or Washington's own third-round pick in the 2018 NHL Entry Draft; the pick would later be dealt and ultimately resulted in the selection of Linus Karlsson by the San Jose Sharks.
Michal scored his first career playoff goal in Game 1 of the 2018 Eastern Conference Finals against the Tampa Bay Lightning on a wrist shot from the point. He won the Stanley Cup with the Washington Capitals on June 7, 2018.
Career Statistics
Edit
Regular season and playoffs
Edit
International
Edit
Headshots
Edit