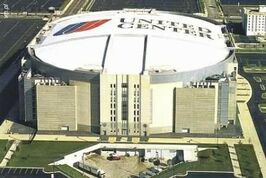 The United Center
Edit
The United Center, also known as the Madhouse on Madison Street II, is the home arena of the Chicago Blackhawks of the NHL. It replaced the Chicago Stadium, the original Madhouse on Madison Street, as the Hawks arena. During the singing of the national anthem, it is tradition for fans to become extremely loud. This originated at a game at the Chicago Stadium, where match was being held the day after the United States entered war. The anthem was cause for cheering and screaming. It is located on Madison Street in Chicago.
Ad blocker interference detected!
Wikia is a free-to-use site that makes money from advertising. We have a modified experience for viewers using ad blockers

Wikia is not accessible if you've made further modifications. Remove the custom ad blocker rule(s) and the page will load as expected.